The 2023 Winter Simulation Conference is taking place at the San Antonio Marriott Rivercenter located on the San Antonio River Walk in Texas. The newly renovated San Antonio Rivercenter sits moments from popular attractions such as the Alamo and the Shops at Rivercenter.
San Antonio Marriott Rivercenter
101 Bowie Street
San Antonio, TX 78205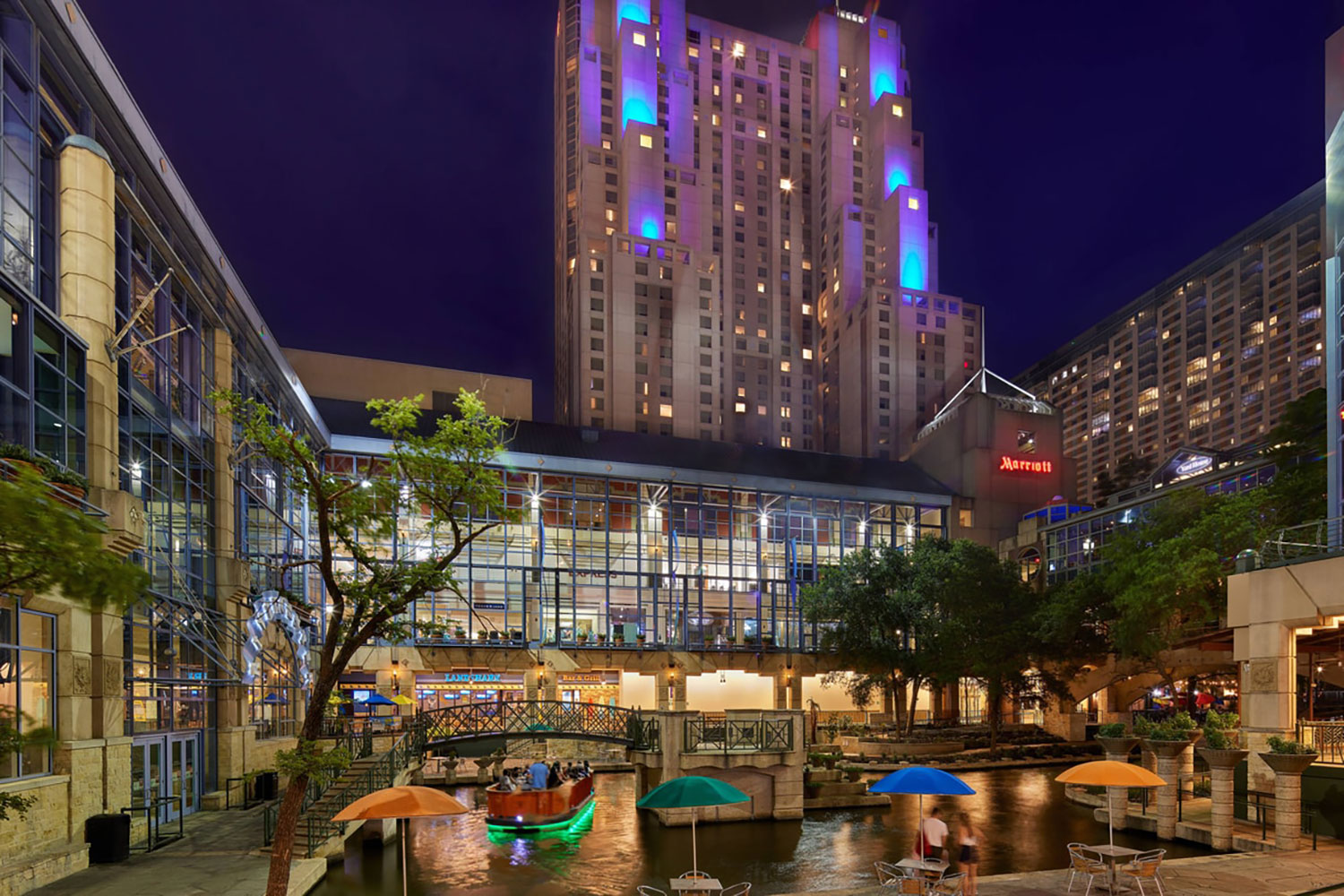 Hotel Reservations
WSC has secured a limited number of reduced-rate rooms at the San Antonio Marriott Rivercenter for a special rate of $189/night (plus applicable taxes).
All reservations must be made by the cut-off of Tuesday, November 14. Please make your reservations as soon as possible because there is limited availability at this rate and it will sell out!
Getting Here
The San Antonio International Airport (SAT) is located about 9 miles from the San Antonio Marriott Rivercenter.
Parking
On-site parking is available for guests for $43 daily and Valet parking is available for $55 daily.
Buyer Beware – Fraudulent Room Reservations
The only way to make reservations at the special conference rate in the WSC block is by using the link provided at registration. Please do not book with an outside booking agent. If someone contacts you via email or phone claiming to be the official WSC travel agent or WSC hotel room booking agent, please know that this is a scam and you should not use them. All reservations should be made on your own.
Staying at WinterSim's host hotel is particularly important this year! Here are some top reasons for staying at the conference hotel:
Booking at WSC's host hotel not only benefits you but it has a significant impact on the Winter Simulation Conference as a whole. We have negotiated numerous concessions and benefits that are based on ensuring attendees stay at the hotel. If we don't meet our commitment, WSC could be financially responsible for lost revenue to the hotel or have to pay extra costs for room rental, etc.
Added networking and social time with WSC attendees, sponsors and exhibitors is a key reason for attending an in-person event. By staying at the host hotel, you enhance opportunities to meet with colleagues and share experiences and ideas.
Marriott hotels have elevated rigorous standards and protocols to create a "new normal" in hospitality with their Connect with Confidence and Commitment to Clean programs.
Hotel Highlights
Dining  options on-site:  Tributary offers breakfast, lunch and dinner along with craft cocktails. (Hours may vary). Café Bocadillo is available 7 days a week for breakfast, lunch and dinner with all items packaged to go.
Fitness Center open 7 days/week, 24 hours/day.
Indoor/Outdoor Pool open from 6am-11pm.
Marriott Bonvoy Benefits
Access the Marriott Bonvoy app for easy & contactless check-in and mobile key.
Use Mobile Chat to reach the front desk at any time during your stay.
WiFi is available complimentary for all Marriott Bonvoy Members guests in their guest room. The enhanced high speed is complimentary for all Gold Elite Members and above.
Earn points that can be redeemed for free room nights.
If you are not a Marriott Bonvoy member, visit their website to sign-up.
Things To Do Nearby
The Marriott Rivercenter is located on the San Antonio River Walk, a world-renowned 15-mile urban waterway. The River Walk, or Paseo del Rio, is a San Antonio treasure and the largest urban ecosystem in the nation. Explore by foot along the river's walking path or jump aboard a river barge for a ride and guided tour. In the heart of downtown, explore nearby attractions like the Alamo, the King William Historic District and more. Or, shop local favorites along the river's Museum Reach at the historic Pearl. While at Pearl, dine and drink al fresco at The Food Hall at Bottling Department. Further south, immerse yourself in history at our UNESCO World Heritage Site, San Antonio Missions National Historical Park, along the Mission Reach. There is so much to do, see, eat and explore along the river.
For more information on the San Antonio River Walk and other places to visit, visit San Antonio Plan Your Trip.
To view the Official Visit San Antonio Visitor's Guide go to: The 2022-2023 Visitor's Guide 
Explore the best San Antonio has to offer and make your stay more memorable with Marriott Bonvoy Tours & Activities. Find recommended things to do and earn Marriott Bonvoy points. Marriott Bonvoy Tours & Activities offer experiences on the water, cultural tours, theme parks, escape rooms, outdoor activities, walking & biking experiences. For more information and to book online visit Things to do Near San Antonio Marriott Rivercenter.