Whether this is your first time at an INFORMS Annual Meeting or you're just feeling rusty after meeting virtually for the past few years, consider this your one-stop-shop for what to expect when you arrive in Indianapolis (and even before you get on the plane)! Learn more about:
Know Before You Go
Welcome from the 2022 Annual Meeting Chair
Dear Friends
We are back!
It took three long years, but the INFORMS Annual Meeting is returning to fully in person, offering the very best that INFORMS has to offer.
INFORMS is not only an organization. INFORMS is also you, and the Annual Meeting is a personification of every one of you.
Very soon, more than 5,000 of you will descend upon Indianapolis. Thank you for making the trip.
Health & Safety at the INFORMS Annual Meeting in Indianapolis
The Indiana Convention Center is hard at work to ensure the cleanliness of its facilities and the health of their employees and visitors. Here are some of the changes you can expect:
Plexiglass sneeze guards at all reception areas and service areas
Multiple hand sanitizer dispensers throughout the facility for staff and visitors alike
Graphics and signage with reminders for practicing good health and safety habits installed at all entrances and throughout the building
Touchless, automatic toilets, sinks, and soap dispensers in all restrooms
Hands-free elbow door openers on all exterior and interior entry points
Hospital-grade air filters and 24/7 air circulation during events
Modified food service policies, including touchless payment options
Introducing Your Meeting Host
INFORMS is delighted to welcome back the 2021 Annual Meeting Host Brad Weaber with Brad Weaber Consulting Group, LLC, as the host of the 2022 Annual Meeting! Tune in as Brad talks with INFORMS Executive Director Elena Gerstmann about what she is looking forward to most at this year's meeting.
Navigating the Meeting Venue
The fully in-person 2022 INFORMS Annual Meeting will take place at the Indiana Convention Center, Indianapolis Marriott Downtown, and JW Marriott Indianapolis. Maps for the each of the meeting venues are available in the Meeting App as well as in the Quick Reference Guide, which you will receive upon checking in at the meeting. Find out more about what is available at the Convention Center.
Meeting Name Badges
Always wear your badge and hang on to it! You will need your badge to attend all INFORMS Annual Meeting events at the Indiana Convention Center and other conference locations around downtown (including the JW Marriott, Indianapolis Marriott Downtown, and Indiana State Museum) and, of course, in the Exhibit Hall. For your safety, we recommend removing your name badge when leaving any of these locations and not wear your badge in public (examples: local restaurants, bars, etc.). 
Meeting Code of Conduct
Every attendee has agreed to adhere to the INFORMS Code of Conduct, requiring all participants to conduct themselves during INFORMS activities in a professional manner that is welcoming to all participants and free from any form of discrimination, harassment, intimidation, or retaliation. Participants agree to treat each other with respect and consideration to create and ensure a collegial, inclusive, and professional environment.
Read the full Code of Conduct.
Reporting Hotline
We are committed to a culture of openness, trust, safety, diversity, and inclusion. That is why we have both a Code of Conduct and an Ethics Code. These codes are part of our efforts to advance professional and ethical conduct and a safe environment for all involved in INFORMS activities.
We have engaged Lighthouse Services to provide an anonymous code of conduct and ethics hotline that will ensure anyone wishing to submit a report anonymously or otherwise can do so.
Please note that the information provided by you may be the basis of an investigation. Your anonymity will be protected to the extent possible by law, by Lighthouse, and by INFORMS. Investigations, when required, will be conducted by a third-party company, Operations Inc.
The Lighthouse Services toll-free number and other methods of reporting are available 24 hours a day, 7 days a week.
Website: www.lighthouse-services.com/informs
Toll-free telephone:

English-speaking USA and Canada: 855-650-0005
Spanish-speaking USA and Canada: 800-216-1288
Spanish-speaking Mexico: 01-800-681-5340
French-speaking Canada: 855-725-0002

Email: reports@lighthouse-services.com (must include INFORMS name with report)
Fax: 215-689-3885 (must include INFORMS name with report)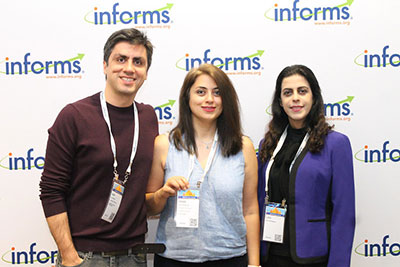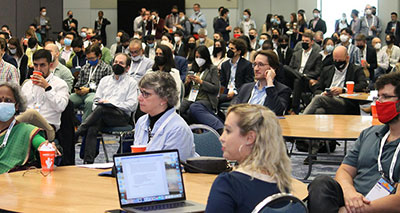 Staying Connected
Annual Meeting App
The conference schedule, presentation and exhibit details, and maps can be found on the mobile app. To download, visit the Apple Store or Google Play Store and search for "Engagefully." Once installed, open the app and search for "INFORMS." When you view the conference schedule, browse through presentations and events or search for specific speakers/keywords. As you find events and presentations that interest you, click on the checked calendar icon to add to your schedule. The mobile app will be your go-to source for the most up-to-date #INFORMS2022 schedule information, as well as help you stay connected to INFORMS all year long. Click here for step-by-step instruction on how to download and navigate the app, including creating your meeting schedule and connecting with other attendees.
eNews Daily
This official record of the INFORMS Annual Meeting is delivered each morning to your inbox and contains links to helpful resources as well as special coverage in OR/MS Today, provided by the members of the OR/MS Tomorrow editorial team. These daily updates will recap the previous day's activities and preview upcoming events. Meet the 2022 eNews Daily team!
Wi-Fi Information
INFORMS will provide free Wi-Fi in the Exhibit Hall in the Indiana Convention Center. Wi-Fi will work for web browsing and email, but not streaming.
Network: informs2022
Password: Indy22
INFORMS Social Media
Make sure to tag INFORMS using #INFORMS2022 when you post about the meeting on social media! We love to see our attendee's meeting experience.
@INFORMS: Twitter, Facebook, LinkedIn, Youtube, Flickr
@INFORMS_ORMS: Instagram, Snapchat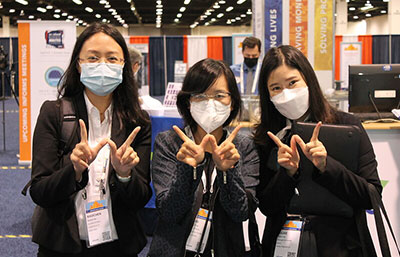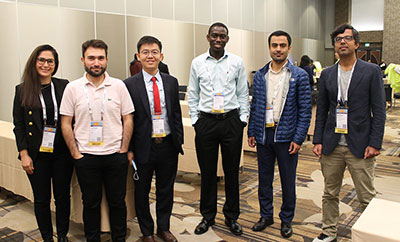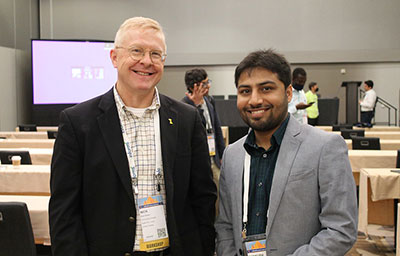 Social Events and Networking Opportunities
There is never a dull moment at #INFORMS2022! Check the mobile app for more details regarding pre- and post-conference workshops and activities, vendor workshops & tutorials, Community business meetings, INFORMS publication events, university sponsored receptions, award sessions, and more.
INFORMS Community Business Meetings & University Sponsored Receptions
Sunday, October 16–Tuesday, October 18
INFORMS has 13 societies, 22 sections, 4 forums, and a host of geographic and student chapters that provide professional resources and networking opportunities. No matter your interest or career path, there's a community for you. INFORMS Community business meetings, receptions and special events are held throughout the Annual Meeting. Times vary, be sure to check the mobile app for a full schedule with dates, times, and locations.
New Member Welcome Breakfast (Invite Only)
Sunday, October 16 | 7–8am | JW Marriott – White River EF
New INFORMS members are invited to join us for breakfast. With so much to discover at #INFORMS2022, this is a can't miss event to connect with colleagues and learn more about your member benefits. You'll learn tips to make the most of the meeting and maximize your member experience after the meeting ends.
Welcome Reception with Exhibits
Sunday, October 16 | 7–8:30pm | CC – Exhibit Hall CDE
All registrants are invited to join us to meet with exhibitors and network with colleagues. Light fare will be served. Soft drinks and bottled water are complimentary, with a cash bar for other beverages.
INFORMS Awards Ceremony & Dessert Reception
Sunday, October 16 | 8:30–9:45pm | JW Marriott – White River EF
The INFORMS Board of Directors invites you to honor and celebrate the achievements of your colleagues at the annual Awards Ceremony. Dessert and coffee will be served during the ceremony. Following the program, you'll have an opportunity to congratulate the awardees. Check the mobile app for a list of the prestigious awards that will be presented.

Student Awards Ceremony
Monday, October 17 | 7:30–8:15pm | JW Marriott – White River E
Join us for this annual Student Awards Ceremony recognizing the great contributions of our most dynamic student chapters and leaders. Check the mobile app for a list of the prestigious awards that will be presented.
INFORMS Member Business Meeting
Tuesday, October 18 | 6:30–7:30pm | JW Marriott – White River E
Don't miss this important discussion! At every Annual Meeting, we have a meeting to allow members to come together to hear about recent accomplishments and the future direction of INFORMS and honor and recognize outstanding volunteers. This year will include a discussion about an upcoming member vote on constitutional amendments.
INFORMS Night at the Museum
Tuesday, October 18 | 7:30–9:30pm | Indiana State Museum, 650 W. Washington Street
After a long day of informative sessions, enjoy fellowship, networking, fun, and of course, food and drink at INFORMS Night at the Museum! Whether you are interested in art, architecture, history, or science, there are three floors and an IMAX theater to explore at the Indiana State Museum. The museum is located in White River State Park, a short walk from host hotels and the convention center. All INFORMS attendees are welcome!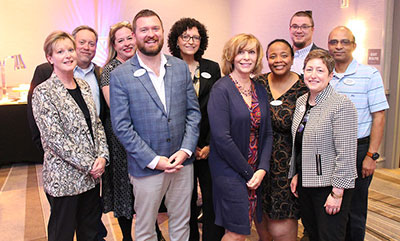 Exhibit Hall
Sunday, October 16 | 12noon– 5pm, 7–8:30pm
Monday & Tuesday, October 17–18 | 9am–5pm
CC – Exhibit Hall CDE
Stop by the exhibit hall between sessions to visit with partners sharing the latest solutions, innovations, and resources in OR/MS and analytics. Check the mobile app for a listing of this year's exhibitors and sponsors.
Networking Lounges
Take a break from your busy presentation schedule and stop by the networking lounges to relax and connect with other Annual Meeting attendees!
INFORMS Center
This dynamic space is the hub for your 2022 INFORMS Annual Meeting activities. Meet INFORMS staff, pick up any INFORMS swag that you ordered, network with fellow attendees while you play a game of cornhole, and make sure you are making the most of your INFORMS member benefits.
INFORMS Center Stage (New for 2022!)
Check mobile app for scheduled events in this interactive classroom in the exhibit hall.
Poster Sessions
Sunday & Monday, October 16 –17 | 12:30–1:45pm
Researchers, practitioners, and students share their operations research and analytics projects presented as poster displays.
Poster Competition
Tuesday, October 18 | 12:30–1:45pm
Poster competition winners will be announced on Tuesday afternoon.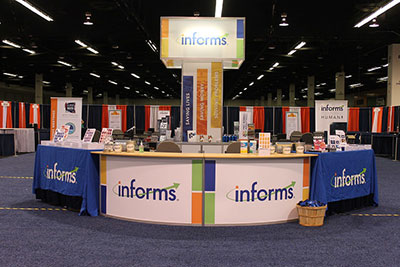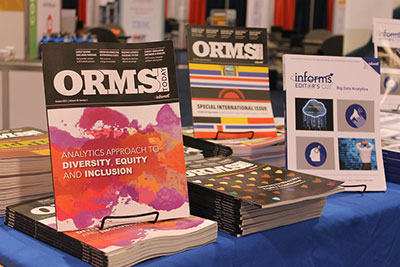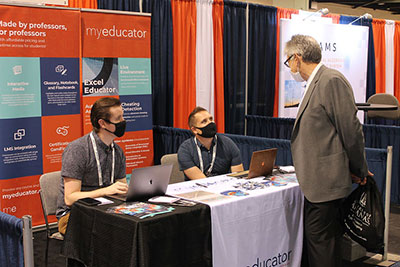 Self-service Kiosk
Program Flip Books
Full program information can be found at the Program Kiosk located in the first-floor lobby of the Indiana Convention Center.
Ribbons
Are you a Session Chair, Cluster Chair, or Poster Presenter looking for some flair to add to your badge? You can locate these ribbons and others on our "Ribbon Wall" near registration.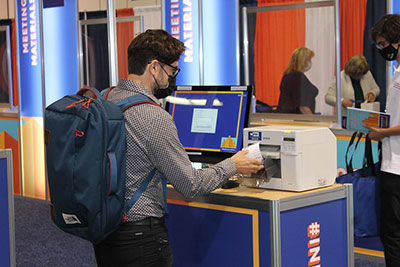 INFORMS Career Fair & Special Events
INFORMS Career Fair, the largest source of O.R. and analytics jobs, connects job seekers and employers in an informal atmosphere to discuss employment opportunities. Employers will collect resumes at the beginning of the Annual Meeting to set up interviews throughout the event. Check the "Schedule at a Glance" and Mobile App for event times and details! See also the Annual Meeting Career Fair jobseeker page for other events listed.