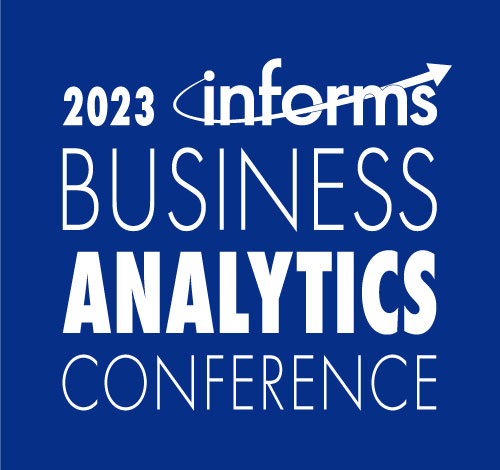 April 16-18, 2023
Aurora, CO
Join over 600 leading analytics professionals and industry experts in discovering new mathematical solutions to problems, networking strategies for advancing your career, and recognizing individual and team efforts within your field with most prestigious awards in analytics and operations research.
2023 General Chair
Aaron Burciaga, CAP
With a history that dates back to the tumultuous American Wild West, when it served as a cornerstone for the gold rush in the surrounding Rocky Mountains, today Aurora, just outside the capital of Denver, Colorado, marries its reputation as a popular outdoor adventure spot with a booming food and music scene, and is also home to the core industries of healthcare and financial services.
We invite you to join us in Aurora, April 16-18, 2023, to travel back in time to the frontier days of American history, while also looking ahead as we celebrate and explore the latest research and achievements in analytics at the 2023 INFORMS Business Analytics Conference.
Attendees will experience a full conference schedule featuring more than 150 presentations and panels by leading analytics professionals from around the world, as well as the opportunity to enjoy all that the incredible city of Aurora has to offer.
We hope to see you in Aurora in 2023!
Why Attend #2023Analytics?
Help shape the future growth and global impact of analytics!
Join us for the 2023 INFORMS Business Analytics Conference, April 16-18, to connect with hundreds of  leading analytics professionals and industry leaders. We will explore the best practices and leading insights into groundbreaking applications, including healthcare, robotics and AI, data ethics, and the role of data science in the media and workplace.
Explore top analytics content from across the globe.
The conference features content from leading analytics professionals that share and showcase the top analytics applications that are saving lives, saving money, and solving problems. The Business Analytics Conference will be structured with tailored content for professionals at any stage of their career.
Grow your professional network at the 2022 INFORMS Business Analytics Conference!
In addition to cutting-edge analytics content, the Analytics Conference recognizes and prioritizes the need for quality "face-to-face" interactions, networking, and collaboration. Regardless of your career stage, the Business Analytics Conference will provide unique opportunities to interact with presenters, fellow attendees, and more, whether through live Q&A, break-out sessions, topic-focused discussions, or one-on-one conversations.
The past year has served as a reminder of the power of analytics in tackling our greatest problems, providing life-saving solutions that maximize resources and investments. Join a community of like-minded, dedicated professionals who have been inspired by these contributions to continue to grow the impact of analytics.
Interested in learning more?
Sign up to receive email updates when new information becomes available.